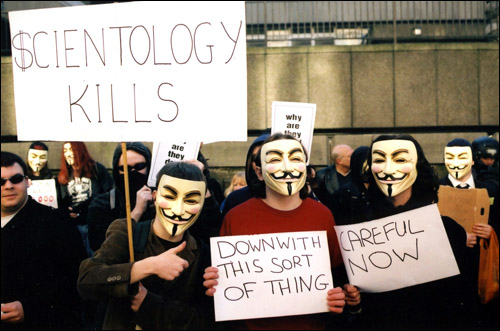 There's been much chatter about
The New Yorker's piece on Scientology
this week, which I will admit to not having read in full just yet (26 pages is a lot to flip through on my relatively small screen...I might actually pick up the print version for once). I found
Terry Gross's rather limited interview with Lawrence Wright
on the piece kind of strange, because it essentially focused on L. Ron Hubbard's apparently forged military records. Which strikes me as a bit like delving into whether or not Hitler actually went to art school.*
I've actually struggled for a while to put my finger on what makes Scientology's
mythology
uniquely
insane in the cannon of odd things people believe in the name of religion. Because even if I couldn't articulate it exactly, I've
felt
that Scientology really does occupy a special place in the annals of bullshit, even above and beyond such rarefied company as a 6000-year-old planet, global flooding, angels, demons, reincarnation, telepathy, the apocalypse (Mayan or Christian version, they're both nuts), ascension to heaven, and resurrection from the dead.
And then frequent Agitator commenter "Mattocracy" just goes and
nails it to the wall for me
, clear as day:
"But for some reason Scientology really makes me ill... Most religions are old and were established when the natural world wasn't really understood. At the time when most other religions were founded, people just didn't know any better.

But Scientology was created in the age of science, even has the name rooted in the word "science" while being completely devoid of it. These fucks knew better than to believe in this shit from the get go. That just makes them much more sinister to me.
*I realize I am dangerously close to self-Godwinning this post, here, but my point isn't really to compare L. Ron with Hitler. It's just to point out that the Hubbard's bullshit about his war injuries is small potatoes compared to the decades of abuse and fraud that followed and continues to this day. Also, fuck L. Ron Hubbard.